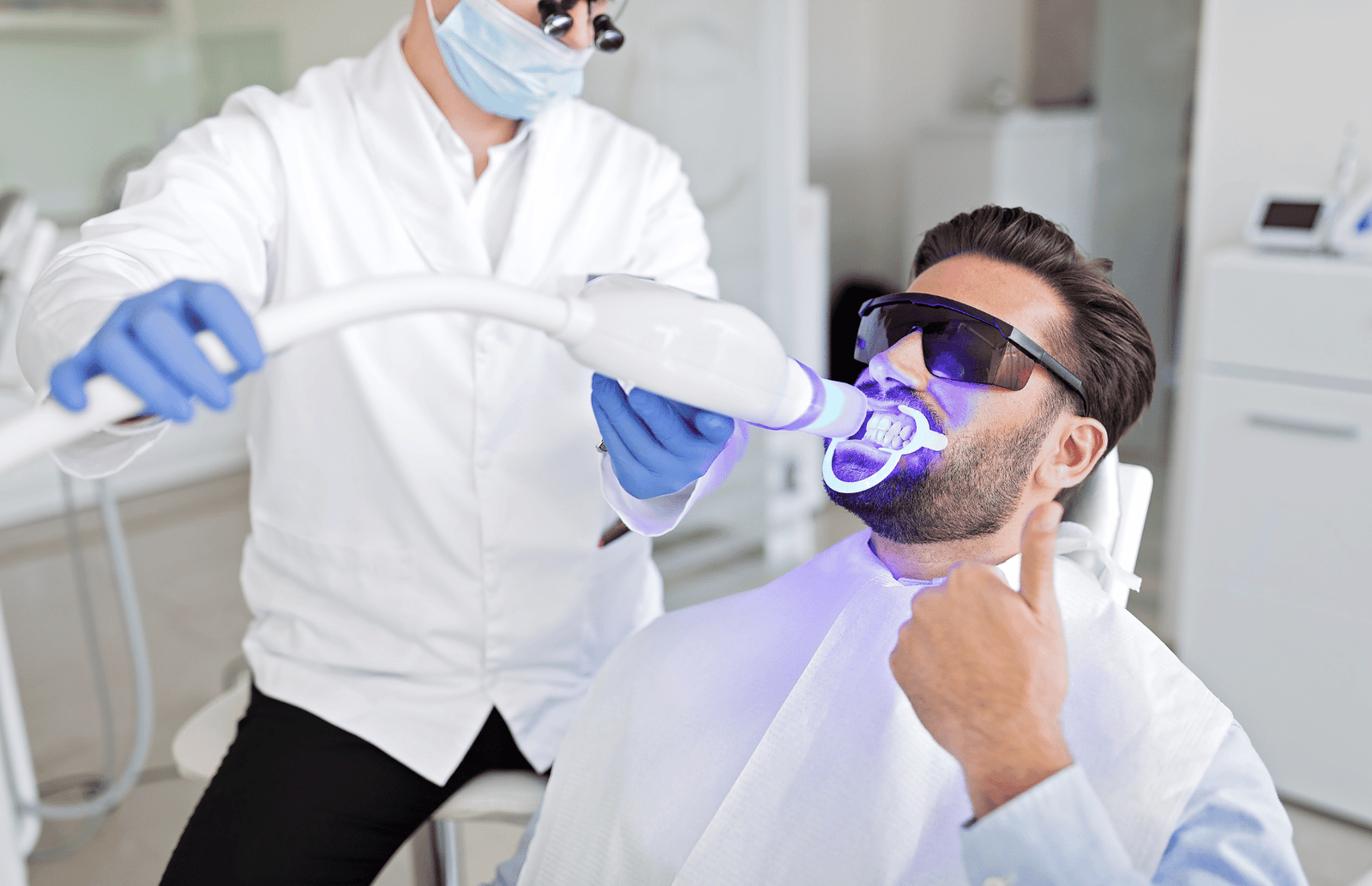 Teeth whitening in Springfield, MA
When your teeth exhibit shades of yellow, appear dingy, or display discoloration, the initial impression you convey might not be what you intend. If you're grappling with embarrassment due to the color of your teeth, rest assured that you're not alone in this sentiment. The American Academy of Cosmetic Dentistry underscores that discolored teeth top the list of smile imperfections people wish to rectify. Within our Springfield office, we present two effective methods to restore the radiance to your smile by eradicating years of staining and discoloration.
You can unwind in our office while we administer a teeth-whitening session, which typically takes around half an hour. Alternatively, we offer a take-home product for those seeking a solution that effortlessly aligns with their daily routine. This at-home option enables you to professionally bleach your teeth over a few minutes each day, spanning less than two weeks.
Irrespective of your chosen approach, we recommend a professional cleaning beforehand to establish a pristine foundation for your new smile. This pre-treatment cleaning ensures the absence of trapped food particles or bacteria that might hinder the efficacy of your whitening treatment. We aim to guide you towards a rejuvenated, confident smile that reflects your true self.
Even the most vibrant smiles can lose their luster due to various factors. While tooth decay and insufficient oral hygiene are known contributors to altering tooth color over time, additional influences can impact the shade of your teeth.
Tooth enamel, the outer layer of our teeth, possesses porous qualities, rendering it susceptible to the influence of foods and beverages with intense color pigments. Even diligent brushing may not completely eradicate the traces of daily coffee, tea, cola, or red wine consumption.
The natural aging process entails gradually thinning enamel, unveiling more inner dentin – a softer substance beneath the enamel. In tooth injury, the body responds by generating additional dentin, which can also become more noticeable.
Tobacco use and smoking introduce tar and nicotine into the equation, causing teeth to acquire stains.
Furthermore, specific medical treatments and medications are recognized culprits for darkening teeth. Among these are certain antibiotics, antipsychotic medications, antihistamines, high blood pressure drugs, chemotherapy, and radiation treatments targeting the head and neck area.
If you've received advice indicating the need for restorative dental procedures such as crowns, bridges, veneers, or dentures, it's advisable to consider teeth whitening before undergoing these treatments. It's important to note that tooth whitening treatments do not affect these restorative items, as they are stain-resistant. Opting for teeth whitening before these procedures allows your cosmetic fixtures to blend in, seamlessly harmonizing with your whiter natural teeth.
GLO® Science Professional: Achieve Striking Results Without Sensitivity
Our Springfield office takes pride in utilizing the groundbreaking GLO Science Professional, a whitening system renowned for its swift efficacy and absence of tooth sensitivity. In a mere 32-minute session, GLO Science Professional can enhance tooth whiteness by an average of five shades.
Guided by factors such as your current tooth sensitivity, degree of discoloration, and desired outcome, we will collaborate with you to select the optimal strength of whitening gel. This includes options of 24 percent or 30 percent hydrogen peroxide. GLO Science Professional embarks on its transformative process after applying the gel to your teeth through an innovative closed mouthpiece. This device applies gentle heat and light directly to your teeth. The proprietary design of this mouthpiece ensures swifter and more enduring results compared to some alternative treatments, all while guaranteeing your post-treatment comfort.
Experience the remarkable potential of GLO Science Professional, where advanced technology meets exceptional whitening results without the inconvenience of sensitivity.
GLO®: Whiten Teeth at Home or On the Go
Our Springfield office is pleased to offer the GLO teeth whitening system, utilizing a closed mouthpiece akin to the in-office approach, coupled with gentle heat and light.
Before commencing with GLO:
Ensure you've brushed and flossed your teeth, then provide your lips with the supplied lip balm.

Dispense a small amount of the 9 percent hydrogen peroxide whitening gel in pre-measured vials onto the provided brush tip.

Proceed to apply the gel to both your upper and lower teeth.

Following this, align the mouthpiece and securely attach it, utilizing the remote fastened to a lanyard.
The remote facilitates the concentration of light and mild heat onto the whitening gel.
After eight minutes, perform a rinse and reapply the gel, engaging in four eight-minute treatments. The remote's lanyard design allows you to continue your activities, whether working on your computer, attending to chores, or simply unwinding with a book or your favorite television program during the GLO treatment.
A noticeable enhancement in tooth whiteness should become evident within five days, an average of five shades brighter. The system is designed to be safely used for ten consecutive days.
Call Today to Schedule a Teeth Whitening Appointment
Are you ready to embark on the journey to a brighter smile? Whether you're eager to schedule an appointment or seeking more information about teeth whitening, our welcoming staff in Springfield is here to assist you. Reach out to us today at (413) 747-0400 or conveniently book an appointment online. Your radiant smile awaits!
Book a consultation today or make an appointment using our convenient online appointment scheduler.
Monday
- 09:00 AM to 5:00 PM
Tuesday
- 09:00 AM to 5:00 PM
Wednesday
- 09:00 AM to 5:00 PM
Thursday
- 09:00 AM to 5:00 PM
Friday
- 09:00 AM to 5:00 PM

CareCredit is a healthcare credit card designed for your health and wellness.
Everyone is accepted and membership can include coverage for your family.