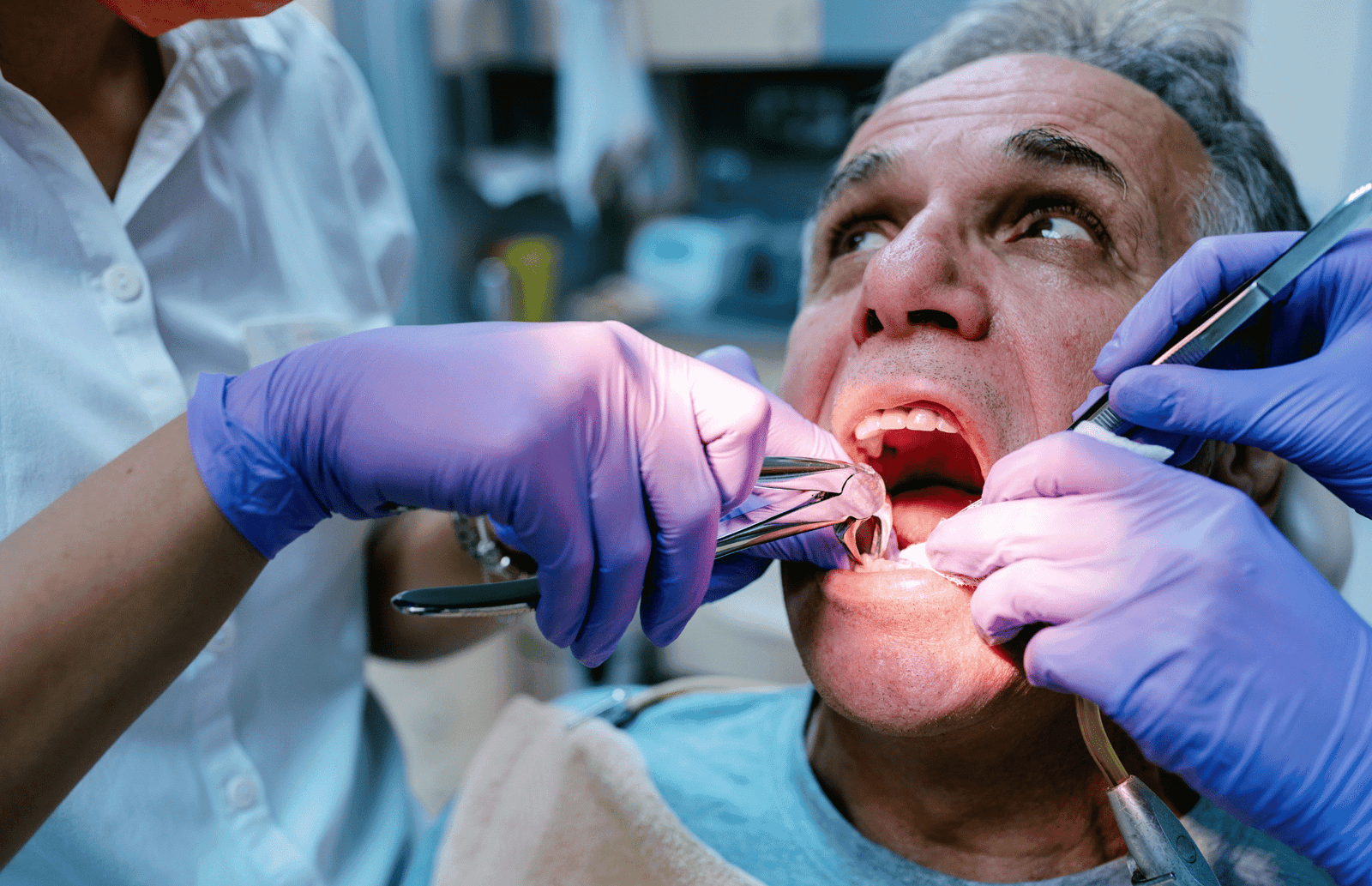 Tooth extraction in Springfield, MA
Although tooth extraction may not be appealing, we are dedicated to ensuring your experience is as swift and comfortable as possible. Our priority is to preserve your natural teeth whenever feasible; however, if extraction becomes necessary, rest assured that our skilled dentist is adept at performing extractions for patients of all ages, aiming to minimize discomfort and expedite the process. Your well-being is our concern throughout the procedure.
What Sensations Can You Expect When Getting a Tooth Extracted?
Undergoing a tooth extraction is not a painful experience. Our dentist employs effective numbing techniques, ensuring the area is fully anesthetized before proceeding. While you might sense some pressure as the tooth is gently moved, this sensation is not associated with pain. The extraction process is typically swift, and the procedure will be complete before you realize it. Your comfort is paramount to us throughout the entire process.
Are Tooth Extractions Costly?
We prioritize providing cost-effective dental extraction solutions; however, the exact cost can only be determined after a thorough examination by our dentist. Factors unique to your situation influence the estimated tooth extraction cost. If your case requires referral to an oral surgeon, it's important to note that surgical extractions often entail higher expenses. Feel free to contact our office to arrange an appointment, where our dentist can assess your needs and provide a precise cost estimate after the examination.
When Do Dentists Recommend Tooth Extraction?
Our dentist will recommend a tooth extraction when it becomes evident that the tooth is beyond salvageable. Additionally, there are instances where tooth removal is advisable, such as in preparation for orthodontic treatment, like braces. Our dentist's guidance ensures that the most appropriate approach is taken to maintain your oral health and achieve your desired results.
Do You Have a Painful Broken or Cracked Tooth?
Our skilled dentist can often perform repairs if you experience a minor break or crack in a tooth. We recommend contacting us promptly to schedule an appointment for evaluation and treatment. However, our dentist might recommend tooth extraction as an alternative solution for more significant cracks or breaks that may be beyond repair. Your oral health is our top priority, and we'll work to find the most suitable approach to address your specific situation.
Are Your Teeth Too Crowded?
Crowded teeth frequently result in misalignment. When your teeth are overcrowded, our dentist might determine that extracting several teeth is necessary before initiating the braces treatment. This strategic extraction creates the necessary space for the remaining teeth to align correctly as the orthodontic process progresses. Your dentist will carefully assess your situation to ensure the best possible outcome for your orthodontic journey.
Are Your Wisdom Teeth Growing in Misaligned?
Wisdom teeth, typically emerging between the ages of 17 and 25, can often grow misaligned, exerting pressure on adjacent teeth. These wisdom teeth can become impacted in certain instances, failing to fully emerge. Our dentist is skilled in performing straightforward wisdom tooth extractions. However, should your situation require surgical extraction due to complexity or impaction, our priority is your well-being, and we will refer you to a reputable oral surgeon for the procedure. Your oral health and comfort are of utmost importance to us.
What Steps Should I Take After Undergoing a Tooth Extraction?
Following a dental tooth extraction, placing gauze over the site is important to apply gentle pressure and halt bleeding. A blood clot will naturally form in the area, aiding in healing. Our dentist will provide precise instructions on activities to avoid, as disturbing the clot can lead to a painful condition known as a dry socket. Adhering closely to our dentist's guidelines ensures a smooth and comfortable recovery. Your well-being is our priority, and we're here to support you throughout the healing process.
Does the Healing Period for Tooth Extraction Extend Beyond One Week?
The healing process after a dental extraction typically spans around two weeks. You can gradually return to your usual activities during this period, even before the extraction site is completely healed. Keep in mind that a surgical extraction may necessitate a longer healing duration.
We're here to assist if you need tooth extraction services in Springfield. Feel free to contact our dental office to schedule an appointment. You can reach us today at (413) 747-0400 or conveniently book an appointment online. Your well-being is our priority, and we're dedicated to providing you the care you deserve.
Book a consultation today or make an appointment using our convenient online appointment scheduler.
Monday
- 09:00 AM to 5:00 PM
Tuesday
- 09:00 AM to 5:00 PM
Wednesday
- 09:00 AM to 5:00 PM
Thursday
- 09:00 AM to 5:00 PM
Friday
- 09:00 AM to 5:00 PM

CareCredit is a healthcare credit card designed for your health and wellness.
Everyone is accepted and membership can include coverage for your family.