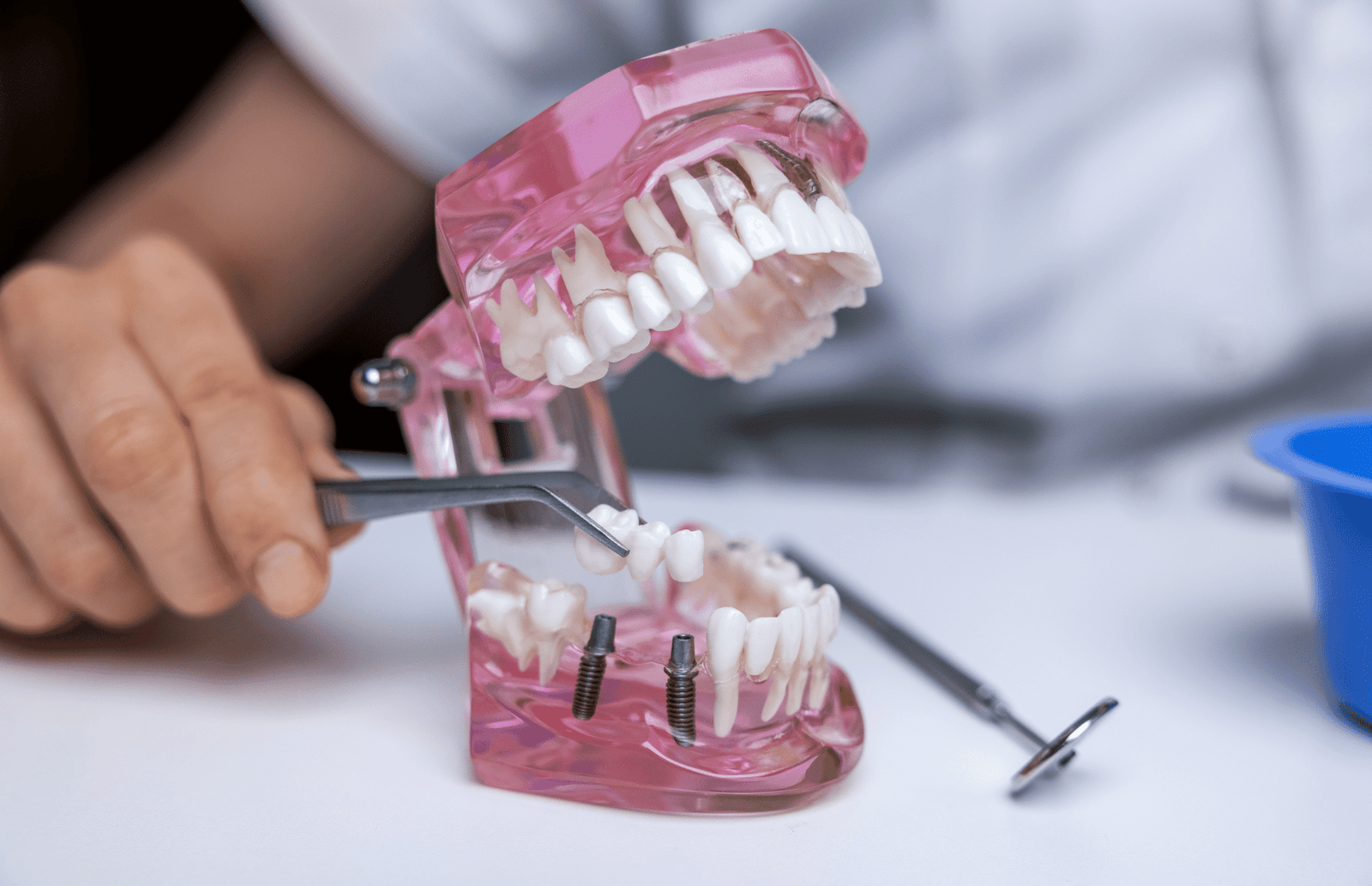 Implant-Supported Dentures in Springfield, MA
Numerous dentists advise patients with significant tooth loss to explore denture options. While the conventional choice involves traditional dentures that rest atop the gums, implant-supported dentures are another path worth considering. In Springfield, MA, this innovative approach utilizes dental implants as stable foundations for dentures, enhancing stability and functionality. Before deciding, it's wise to weigh the benefits of implant-supported dentures against the traditional alternative, ensuring that you choose the solution that best aligns with your needs and preferences.
What Issues Can an Implant Denture Address?
Implant-supported dentures come into play when a patient has lost many teeth while retaining a significant portion of their jawbone. Unlike conventional dentures that rest on the gums, these dentures capitalize on dental implants. These implants, strategically positioned in the jaw by the dentist, serve as steadfast anchors for the dentures. The result? Enhanced stability and functionality. Notably, affordable and high-quality implant-supported dentures offer greater steadfastness than their traditional counterparts. Depending on your preference, these dentures can be removable or fixed, seamlessly replacing your upper or lower teeth sets. Allow your dentist to guide you in making an informed choice that aligns perfectly with your needs and goals.
How Long Will It Take to Complete the Denture Process?
The process of placing implant dentures typically spans a period of five to seven months. This journey commences with a consultation, during which your dentist evaluates your oral health and discusses denture possibilities tailored to you.
A subsequent appointment will be arranged should you be deemed a suitable candidate for implant-supported dentures. Your dentist will skillfully embed the implants into your jawbone at this stage. The number of implants usually ranges from four to six, although some individuals may require just two. Your dentist will employ bar-shaped or ball-shaped implants based on your unique situation.
Subsequently, a waiting period of up to three months ensues, allowing the implants to fuse securely with the surrounding jawbone. Following this integration, a second surgical step is performed. This procedure involves a minor incision to expose the implants beneath the gums. The incision typically heals within 10 to 14 days, after which you'll return for the final phase – inserting your dentures.
Alternatively, a more recent one-step procedure promises a faster timeline. To determine if this accelerated method suits you, consult your dentist for personalized guidance. In your pursuit of implant dentures, rest assured that Springfield's dental experts are here to navigate you through the best path for your needs.
What Is the Cost of Implant-Supported Dentures?
Concerns about the expense of denture implants are common, yet many of our Springfield, MA patients discover that economical, high-quality implant-supported dentures are well within their financial means. The ultimate cost of your implant-supported dentures hinges on factors like the specific procedure employed by your dentist and the type of dentures chosen. Rest assured, our team is dedicated to providing transparent information and tailored solutions, ensuring that your journey towards a confident smile aligns harmoniously with your budget. Discover the possibilities of affordable, top-tier implant-supported dentures that can transform your oral health and overall well-being.
Are There Benefits to Having Implant Dentures?
Implant-supported dentures, a standout choice in Springfield, MA, offer a distinct advantage – they eliminate the need for adhesives, resulting in superior stability compared to conventional dentures. These innovative dentures closely emulate the natural functionality of teeth, delivering a more authentic experience. Moreover, they establish a robust and secure foundation that surpasses the stability provided by traditional dentures. Experience the difference between implant-supported dentures as they redefine comfort, confidence, and the joy of a resilient smile.
How Should I Maintain and Care for My Implant-Supported Dentures?
For those with removable dentures in Springfield, MA, it's advisable to remove them nightly and immerse them in a denture cleaning solution. Fixed dentures, on the other hand, require regular brushing. In both cases, maintaining a routine of consistent visits to your dentist is highly recommended. By adhering to these practices, you'll ensure the longevity and optimal performance of your dentures, contributing to a healthier and more confident oral experience. Your Springfield dentist is here to guide you on the path to effective denture care for lasting smiles.
Why Opt for Implant-Supported Dentures Instead of Traditional Dentures?
Many patients favour implant-supported dentures in Springfield, MA, owing to their notable durability compared to regular dentures. These dentures offer many advantages that positively impact your health and appearance. Among these benefits are the capacity to slow down bone loss, facilitate normal eating habits, and boost your confidence in social interactions.
For those seeking further insights into implant-supported dentures, we encourage you to reach out today. Our warm and knowledgeable staff is readily available to address any inquiries. Connect with us at 413-747-0400 or conveniently schedule an appointment online. Let us guide you towards a future of enhanced oral health and renewed self-assurance.
Book a consultation today or make an appointment using our convenient online appointment scheduler.
Monday
- 09:00 AM to 5:00 PM
Tuesday
- 09:00 AM to 5:00 PM
Wednesday
- 09:00 AM to 5:00 PM
Thursday
- 09:00 AM to 5:00 PM
Friday
- 09:00 AM to 5:00 PM

CareCredit is a healthcare credit card designed for your health and wellness.
Everyone is accepted and membership can include coverage for your family.