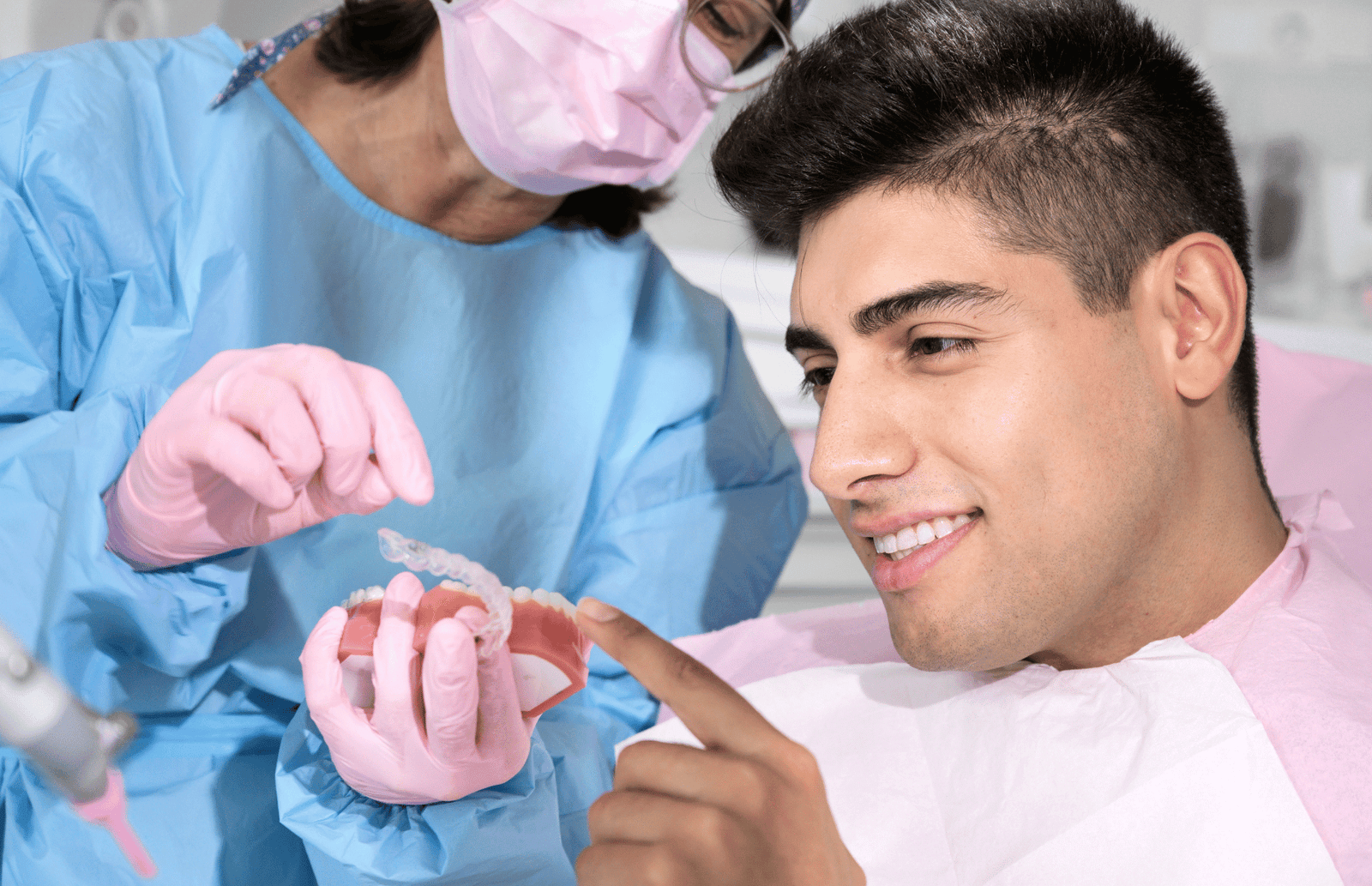 Invisalign® in Springfield, MA
You no longer need to compromise with conventional metal braces to address your misaligned or crooked teeth. Our dentists offer a discreet alternative – Invisalign® – to rectify your bite concerns.
Does Invisalign Effectively Straighten Teeth?
Invisalign clear aligner trays are meticulously designed to guide your teeth into their proper alignment over time methodically. These trays are custom-made to fit your teeth precisely, exerting controlled corrective pressure. The process entails a series of trays, transitioning from one set to the next approximately every two weeks. Often called clear or transparent braces, Invisalign is virtually indiscernible when worn, blending seamlessly with your teeth. With Invisalign in Springfield, you can embrace the prospect of a more aligned and confident smile while discreetly working towards your dental goals.
What Is the Duration of Invisalign Treatment?
Invisalign treatment typically spans 10 months to two years, contingent upon the extent of realignment, straightening, or rotation required for your teeth. Teenagers' treatment times can vary considerably, while the average duration for adults is approximately one year. Rest assured, our Springfield practice is committed to tailoring your Invisalign journey to achieve optimal results within a timeframe that suits your needs.
What Kind of Dentist Offers Invisalign?
Both licensed orthodontists and general dentists who have undergone Invisalign training are qualified to administer the aligner tray treatment. At our practice, our experienced Invisalign dentists possess comprehensive expertise in utilizing the system to guide you towards a straighter, more confident smile. Your journey towards enhanced dental aesthetics and improved self-assurance is in capable hands with our skilled professionals in Springfield.
What Are the Benefits of Invisalign vs Braces?
The pivotal factor in choosing between Invisalign and braces is determining the most effective treatment for your orthodontic needs. In Springfield, Invisalign proves equally efficient as braces in rectifying mild to moderate concerns, such as slight overbites and minor misalignment. Conversely, braces are more suitable for individuals with severe overcrowding and intricate issues. Our dependable dentists are here to assist you in assessing the advantages of Invisalign, aiding you in arriving at the optimal decision for your unique circumstances.
Why Opt for Invisalign?
Numerous patients gravitate towards Invisalign over traditional braces due to several compelling reasons:
Aligner trays are removable at your convenience.

The absence of metal wires or brackets in plastic aligner trays reduces mouth irritation.

Dental appointments are brief and occur once every one to six weeks.

You can enjoy your favourite foods without restrictions.

Maintenance of aligner trays is straightforward.

Your smile remains free of metal, and the virtually invisible aligner trays enhance discretion.
We understand the significance of your choice and are committed to guiding you towards the treatment that best aligns with your needs and preferences.
Who Is Eligible for Invisalign?
Both teenagers and adults grappling with moderate or mild orthodontic issues are excellent candidates for Invisalign in Springfield. However, it's important to note that Invisalign isn't typically recommended for children, as their mouths and teeth are still developing. We encourage you to contact us for a consultation to ascertain the ideal treatment path for your unique smile. Our experts are here to provide personalized guidance and assist you in making an informed decision about your orthodontic journey.
What Is the Typical Cost of Invisalign Treatment?
Typically, affordable Invisalign treatment is attainable at a cost comparable to traditional metal braces. Various resources, such as dental insurance, health savings accounts, and other programs, may be accessible to alleviate your overall Invisalign expenses. It's important to recognize that your ultimate Invisalign cost is contingent upon the extent of treatment you necessitate. More extensive correction often involves a lengthier process and higher costs. As a result, scheduling a consultation with our experienced Invisalign dentists is instrumental in ascertaining your comprehensive Invisalign cost. We're committed to providing you with a clear understanding of the financial aspects, enabling you to embark on your journey toward a straighter smile confidently.
Is Invisalign Treatment Covered by Insurance?
In many cases, Invisalign and other orthodontic treatments are partially covered by dental insurance plans. To navigate the process of utilizing your Invisalign insurance coverage effectively, we recommend reaching out to our dental office. Our team is here to guide you through the intricacies of your insurance benefits, ensuring that you maximize the advantages available for your orthodontic journey.
What Follow-Up Care Is Required After Treatment?
Following Invisalign treatment, you can generally resume your routine dental check-ups. To safeguard against any potential regression to the original alignment of your teeth, our Invisalign dentists might advise using Invisalign retainers once your treatment is concluded. These retainers are preventive measures, ensuring that your newly aligned smile remains intact. Your ongoing dental care remains paramount, and our team is dedicated to supporting you in maintaining the lasting benefits of your Invisalign journey.
Book a consultation today or make an appointment using our convenient online appointment scheduler.
Monday
- 09:00 AM to 5:00 PM
Tuesday
- 09:00 AM to 5:00 PM
Wednesday
- 09:00 AM to 5:00 PM
Thursday
- 09:00 AM to 5:00 PM
Friday
- 09:00 AM to 5:00 PM

CareCredit is a healthcare credit card designed for your health and wellness.
Everyone is accepted and membership can include coverage for your family.