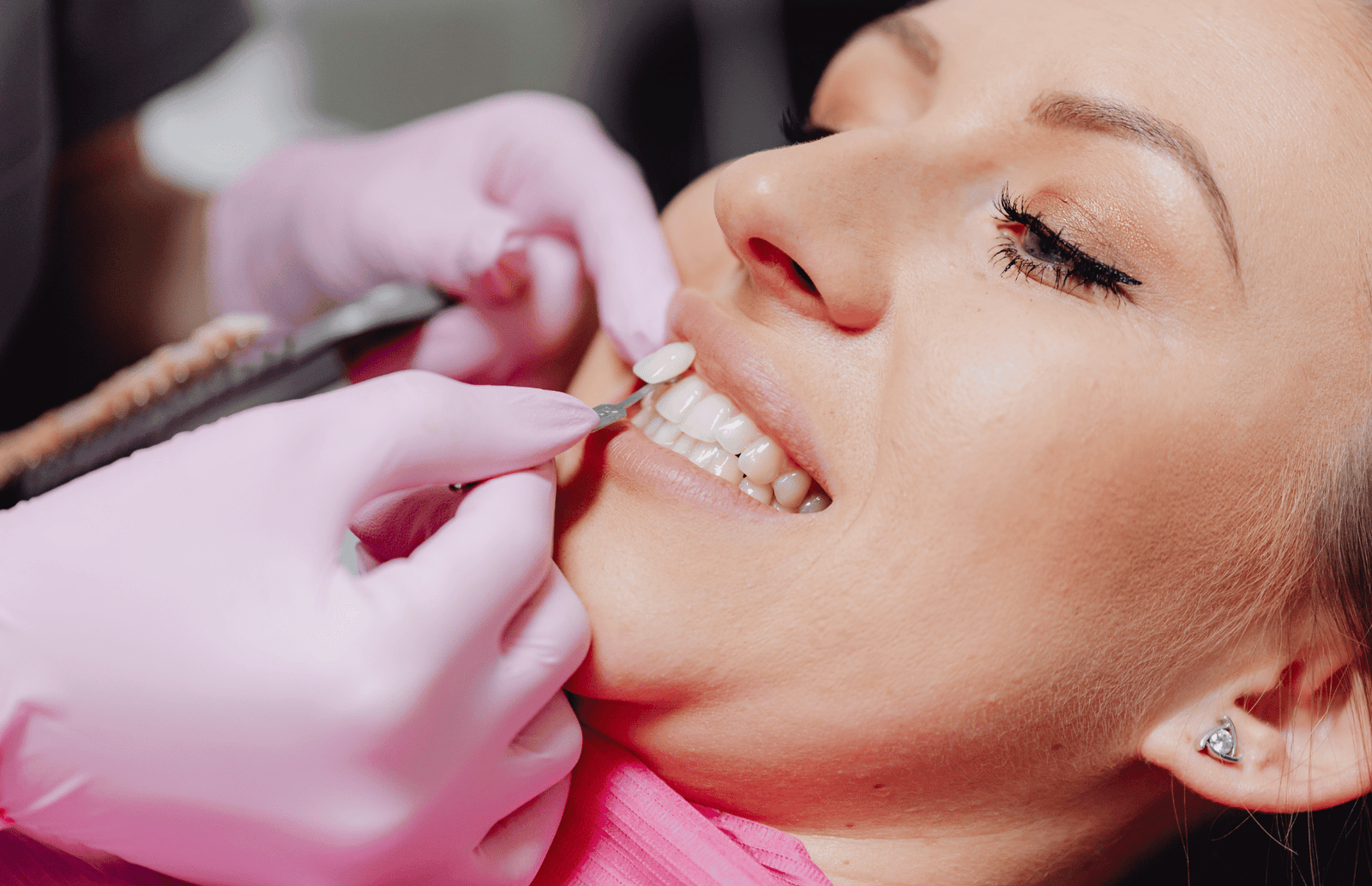 Porcelain veneers in Springfield, MA
Is your smile missing from family photos, or perhaps it's subdued due to concerns like discolored, chipped, misaligned teeth, or gaps between them? If so, porcelain veneers could be the transformative solution you're looking for. With the potential to not only restore your smile but also reignite your self-assurance, veneers offer a preferred remedy for a range of issues, including enhancing the size and shape of your teeth. Our dedicated dentists in Springfield are enthusiastic about evaluating your smile and collaborating with you to ascertain whether veneers align with your desires and goals. Embark on the journey towards a renewed, radiant smile by connecting with us – we're here to guide you every step of the way.
What is a Porcelain Veneer?
Crafted from delicate ceramic layers, porcelain veneers act as protective shields for your teeth, seamlessly replacing tooth enamel by adhering to the outer surface. Their permanence is on par with fillings or crowns, offering a solution for an array of aesthetic concerns:
Spacing and Alignment

: Veneers can close gaps in your front teeth and address various alignment issues, making them an excellent alternative to braces in certain cases.

Colour

: Even stubbornly resistant teeth can be brightened with veneers, available in an assortment of natural-looking shades to match your teeth or enhance their whiteness.

Size and Shape

: Veneers can transform your smile from rejuvenating chipped teeth to elongating those shortened due to teeth grinding. If you've ever felt your teeth were too square, round, large, or small, veneers can harmonize their shape with your facial features.
Our Springfield dentist can provide you with a preview of your appearance with veneers before commencing treatment. A mould of your teeth will be taken for precise and comfortable fitting. Depending on the chosen veneer brand, a minor portion of your enamel might be removed for optimal application. Once bonded, veneers stay resilient against staining or shifting during eating and conversations. Get ready to flash your confident smile for photos and cherish the result.
How Is a Veneer Different from a Crown?
Both crowns and veneers are fashioned from materials replicating tooth enamel and forming a  secure bond with your natural teeth. Furthermore, both treatments yield transformations in the shape, size, colour, and overall appearance of your teeth and smile.
Nonetheless, these corrective procedures cater to distinct concerns. Crowns serve to structurally restore teeth affected by damage stemming from trauma, grinding, clenching, decay, or the passage of time. In contrast, veneers are tailored to conceal minor imperfections, classifying the treatment as a cosmetic dental procedure. A veneer adheres to the frontal surface of a tooth, whereas a crown, often referred to as a cap, encases the entire tooth down to the gum line. While crown placement necessitates the removal of external tooth enamel, it subsequently fortifies the underlying tooth. Furthermore, crowns are frequently chosen to address structural and cosmetic concerns afflicting these teeth due to their capacity to withstand the force of biting between molars.
How Long Do Veneers Last?
Veneers are meticulously crafted to provide a lasting enhancement to the beauty of your teeth and smile. The longevity of their effect hinges on factors such as daily care, your lifestyle, and the specific brand of veneers employed. With diligent maintenance involving daily brushing and flossing, veneers can endure for several decades, ensuring that your investment in a radiant smile stands the test of time.
Lumineers® represent a distinct brand of veneers recognized for their ultra-thin and remarkably translucent composition. What sets this brand apart is its exceptional feature of necessitating minimal to no reduction of your natural tooth's surface enamel while maintaining exceptional durability. Projections indicate that Lumineers can maintain their integrity for over 20 years. Like other veneer types, they offer a natural appearance, comfortable fit, secure adherence, and resistance against staining. Experience the transformative potential of Lumineers – a sophisticated choice that combines aesthetics and longevity.
How Do I Care For Veneers?
If your veneers are concealing teeth that have suffered wear due to grinding and clenching, our dentist may recommend using a custom night guard to safeguard your enhanced smile. Alternatively, if your veneers are not subject to such concerns, maintaining them is akin to caring for your natural teeth – brushing and flossing them gently daily.
It's important to acknowledge that veneers are not impervious despite their durability. Should your front teeth be included in those treated with veneers, it's prudent to adhere to your dentist's counsel and refrain from biting into hard foods, such as candy apples, or using your teeth to open packages. By embracing these guidelines, you can ensure your veneers' prolonged radiance and resilience.
Schedule a Consultation for Veneers in Springfield Today
If you have further inquiries about veneers or are contemplating them as a transformative choice for your new smile, our dedicated team is at your service. With compassion and expertise, our Springfield staff is prepared to arrange an appointment to address any questions or concerns you may have regarding veneers and how they seamlessly integrate into your dental care journey. Feel empowered to reach out to us and embark on the path towards a revitalized and confident smile.
Book a consultation today or make an appointment using our convenient online appointment scheduler.
Monday
- 09:00 AM to 5:00 PM
Tuesday
- 09:00 AM to 5:00 PM
Wednesday
- 09:00 AM to 5:00 PM
Thursday
- 09:00 AM to 5:00 PM
Friday
- 09:00 AM to 5:00 PM

CareCredit is a healthcare credit card designed for your health and wellness.
Everyone is accepted and membership can include coverage for your family.