Full dentures & partial dentures
Full dentures & partial dentures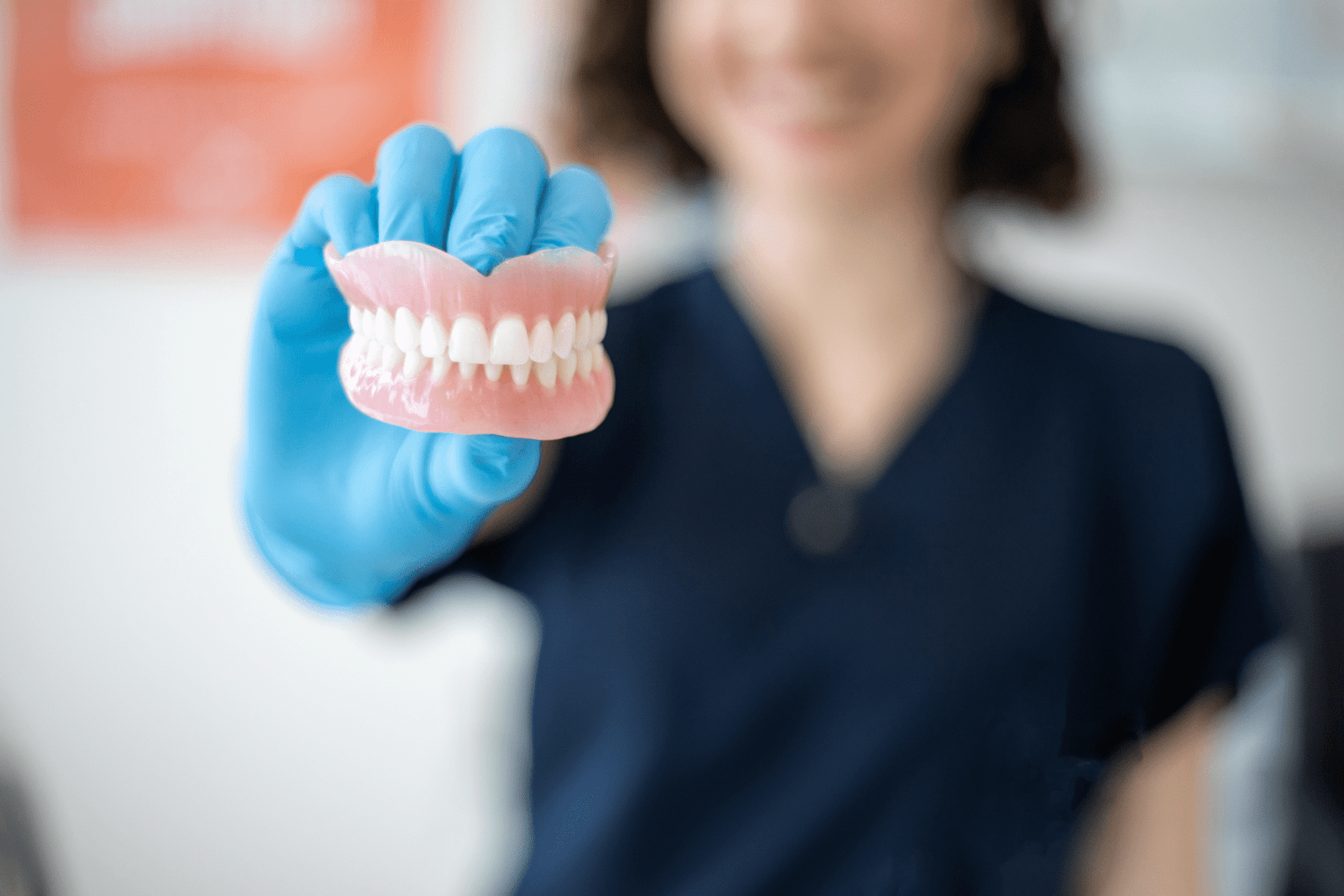 Full dentures & partial dentures in Chicopee, MA
Missing teeth can significantly impact your self-esteem and confidence, making it difficult to feel at ease in social and professional situations. Fortunately, replacing these teeth with a denture can help you restore an attractive smile and improve your overall sense of well-being. At Gorgeous Smiles Dental of Chicopee, we understand the importance of feeling confident in your smile, which is why we offer affordable quality dentures in Chicopee. Our team of experienced professionals is committed to providing personalized solutions that meet your unique needs and preferences. With our help, you can enjoy a beautiful and functional smile that makes you feel more confident and comfortable in any situation. Contact us today to learn more about our denture services and how we can help you achieve your desired smile.
What is the reason for needing dentures?
Dentures are a type of dental prosthesis that are used to replace missing teeth and surrounding tissue. There are several reasons why someone might need dentures, including:
Tooth loss due to decay or injury: When a tooth is lost due to decay or injury, it can affect a person's ability to eat, speak, and smile confidently. Dentures can restore the appearance and function of the mouth, allowing individuals to eat their favorite foods and speak with ease.

Gum disease: Advanced gum disease can cause teeth to loosen and fall out, leading to the need for dentures.

Genetics: Some people are born without certain teeth or may have a genetic predisposition to tooth loss, which can lead to the need for dentures later in life.

Age-related tooth loss: As people age, they may experience tooth loss due to a variety of factors, including wear and tear on the teeth, decreased bone density, and changes in gum tissue.
Overall, dentures can provide a comfortable and functional solution for those who are missing teeth, allowing them to maintain their oral health and quality of life. At Gorgeous Smiles Dental, we offer a range of denture options to suit the individual needs and preferences of our patients.
Are there different kinds of dentures available?
Yes, there are different kinds of dentures available, including:
Complete dentures: These dentures are used when all of the natural teeth are missing. They can be made for the upper or lower jaw, or both, and are held in place by suction or an adhesive.

Partial dentures: These dentures are used when some natural teeth remain. They are held in place by clasps that attach to the remaining teeth.

Implant-supported dentures: These dentures are supported by dental implants that are surgically placed into the jawbone. They provide a more secure fit than traditional dentures and can improve the overall function and comfort of the dentures.

Immediate dentures: These dentures are made in advance and can be placed immediately after the natural teeth are removed. They allow the patient to have teeth right away, but may require adjustments as the mouth heals and the gums shrink.
At Gorgeous Smiles Dental, we offer a variety of denture options to meet the individual needs and preferences of our patients. Our dental professionals work closely with each patient to determine the best type of denture for their specific situation, taking into account factors such as oral health, budget, and lifestyle.
What are the reasons behind people choosing All-on-4® dentures?
All-on-4® dentures are a popular option for people who have lost most or all of their teeth and want a stable and long-lasting replacement. Here are some of the reasons why people choose All-on-4® dentures:
Improved function: All-on-4® dentures are anchored to dental implants, providing a stable and secure fit that allows for improved biting and chewing function compared to traditional dentures.

Aesthetics: All-on-4® dentures are designed to look and feel like natural teeth, which can improve a person's self-confidence and quality of life.

Convenience: All-on-4® dentures are a fixed solution, meaning they do not need to be removed for cleaning or maintenance like traditional dentures.

Bone preservation: The dental implants used in All-on-4® dentures help to preserve the jawbone by stimulating natural bone growth, which can help prevent bone loss and maintain facial structure.
Overall, All-on-4® dentures offer a durable, natural-looking, and convenient solution for those who have lost most or all of their teeth. At Gorgeous Smiles Dental, our experienced dental professionals can help determine if All-on-4® dentures are the right choice for your specific needs and provide personalized treatment plans to achieve the best possible outcome.
How to prepare for the denture procedure?

When planning to get dentures, it's essential to know that, in most cases, tooth extraction is necessary before you can be measured for your new dentures. This is because the measurements and impressions taken after your gums have healed will be used to create dentures that fit your needs and gums as closely as possible.
After the extraction, your gums will need time to heal correctly before any impressions can be taken. The healing period usually lasts around four to six weeks. During this time, your dentist may recommend a soft diet and provide pain medication to manage discomfort.
You may need a more extended healing period if implants are required for your dentures. Implants serve as attachment points for your dentures and must be as solid and reliable as possible. The implant healing period usually lasts three to six months, depending on the individual's circumstances.
Once you have fully healed from any extractions and your implants have been exposed, your dentist will help you fit your permanent denture. The fitting process will ensure that your denture is comfortable and fits securely in your mouth. With proper care and regular dental checkups, your denture can last for many years and restore your smile and confidence.
What is the average cost of dentures?
The average cost of dentures can vary depending on several factors, such as the type of denture, the materials used, and the location where the treatment is performed. Essential dentures made with acrylic resin are usually less expensive than other advanced options like implant-supported dentures made with higher quality materials like porcelain or titanium.
Depending on the individual policy and coverage, dental insurance may cover some or all of the cost of dentures. Some dental clinics and practices also offer financing options or payment plans to make dentures more affordable.
It's essential to schedule a consultation with a qualified dentist who can provide a personalized treatment plan and cost estimate based on your needs. They can also guide you on the available options and help you make an informed decision about the type of denture best suited for you.
Do I require a soft reline for my dentures?
At Gorgeous Smiles Dental, located in Chicopee, MA, we understand that discomfort or soreness due to gum tissue or bone structure changes can make wearing dentures uncomfortable. That's why we offer soft reline procedures to improve the fit and comfort of your denture.
If you've been wearing your dentures for a while and notice they feel loose or uncomfortable, and it may be time for a soft reline. However, it's best to consult our experienced dentists to determine if a reline is necessary.
During your appointment at Gorgeous Smiles Dental, our dentist will examine your denture and evaluate the fit and condition of your gum tissue. They may also take new impressions of your mouth to create a more accurate fit. Based on their evaluation, they can advise you on whether a soft reline or other adjustments to your denture are needed to improve its fit and comfort.
It's essential to promptly address any discomfort or issues with your dentures to avoid further complications and ensure that your denture is functioning properly. At Gorgeous Smiles Dental, we're committed to providing the best possible care for our patients and helping them achieve comfortable and functional smiles.
Book a consultation today or make an appointment using our convenient online appointment scheduler.
Monday
- 10:00 AM to 7:00 PM
Tuesday
- 10:00 AM to 7:00 PM
Wednesday
- 10:00 AM to 7:00 PM
Thursday
- 10:00 AM to 7:00 PM
Friday
- 10:00 AM to 7:00 PM
Saturday
- 10:00 AM to 7:00 PM
Sunday
- 10:00 AM to 7:00 PM

CareCredit is a healthcare credit card designed for your health and wellness.
Everyone is accepted and membership can include coverage for your family.
Book your appointment today.