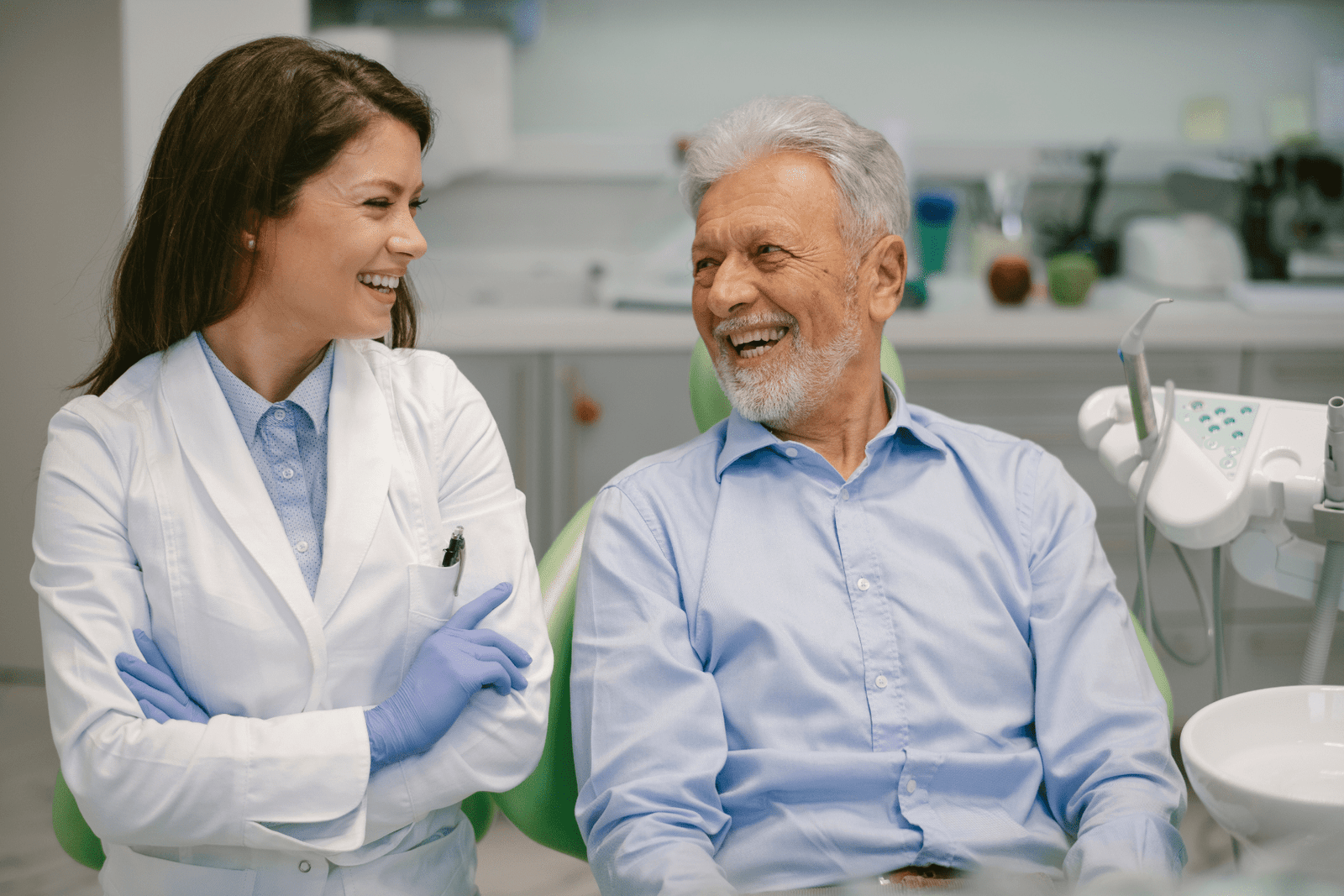 General dentistry in Chicopee, MA
At Gorgeous Smiles Dental, our mission is to help patients maintain their natural teeth for as long as possible. Prevention is critical, and we're dedicated to working with our patients to achieve optimal oral health.
Regular dental cleanings and check-ups are critical for maintaining good oral health. Our experienced dental professionals can detect potential problems early on and provide the necessary treatment to prevent more serious issues from arising. This can help save you time, money, and discomfort in the long run.
If you're experiencing dental issues, our skilled team of dentists can provide a range of treatments to address your concerns. We offer a personalized approach to dental care and work closely with our patients to develop customized treatment plans that meet their unique needs and goals.
Gorgeous Smiles Dental strives to provide the highest quality dental care in a comfortable and welcoming environment. Our friendly and knowledgeable staff are committed to ensuring your dental visit is a positive experience. Whether you need a routine cleaning or have a specific concern, we'd be delighted to see you and help you achieve a healthy, beautiful smile.
What is the significance of visiting a dentist?
Visiting a dentist regularly is essential for maintaining good oral health. Dental check-ups and cleanings can help prevent many dental problems, including cavities, gum disease, and tooth loss.
During a dental check-up, a dentist can identify any issues before they become more severe and require more extensive treatment. For example, a cavity detected early can often be treated with a simple filling. However, if left untreated, the hole can worsen and require a root canal or tooth extraction.
Regular dental cleanings are also critical for maintaining good oral health. Even with regular brushing and flossing, plaque and tartar can build up on teeth over time, leading to tooth decay and gum disease. A professional cleaning can remove this buildup and help prevent these issues from developing.
In addition to preventing dental problems, We can help improve the appearance of your teeth and gums. We offer a range of cosmetic treatments, such as teeth whitening and veneers, to help you achieve a brighter, more beautiful smile.
Overall, visiting a dentist is crucial for maintaining good oral health, preventing dental problems, and achieving a beautiful, healthy smile.
What is a General Dentist?
General dentists are dental professionals who offer various dental services to patients of all ages. At Gorgeous Smiles Dental, our general dentists provide preventive care, restorative treatments, and cosmetic procedures to help patients maintain good oral health and achieve a beautiful smile. Our dentists perform comprehensive dental exams, diagnose dental issues, and develop personalized treatment plans to address those issues. We also provide education and guidance on oral hygiene and preventative measures to help our patients maintain healthy teeth and gums. Our general dentists can refer you to a specialist if you need more complex or specialised treatment. Overall, our general dentists play a vital role in maintaining and improving oral health for our patients.
General Dentistry Services Offered by Our Office
General dentistry encompasses a range of dental services to maintain and improve oral health. Some of the services offered by general dentists include:
Preventive care: Regular check-ups, cleanings, and oral cancer screenings to help prevent dental problems and detect early signs of disease.

Treatments: Fillings, crowns, bridges, and dentures to repair damaged teeth or replace missing teeth.

Cosmetic procedures: Teeth whitening, veneers, and bonding to improve the appearance of teeth and enhance smiles.

Gum disease treatment: Scaling and root planing, gum surgery, and other medicines to address gum disease and prevent tooth loss.

Pediatric dentistry: Dental care for children, including cleanings, fluoride treatments, and sealants.

Emergency care: Treatment for dental emergencies such as toothaches, broken teeth, and knocked-out teeth.
General dentists are crucial in maintaining oral health and addressing dental issues. At Gorgeous Smiles Dental, our general dentists are dedicated to providing high-quality dental care to patients of all ages.
How frequently should I undergo a dental exam?
It is generally recommended to undergo a dental exam and cleaning every six months to maintain good oral health. However, the frequency of your dental visits may depend on factors such as age, overall oral health, and risk of developing dental problems.
For example, children, teenagers, and older adults may require more frequent dental visits due to their higher risk of developing dental issues. Patients with a history of gum disease or frequent cavities may also require more frequent visits to monitor their oral health.
It's important to discuss with your dentist how often you should have dental exams based on your individual needs and circumstances. Regular dental visits can help prevent dental problems, catch issues early on, and maintain optimal oral health. At our dental office, Gorgeous Smiles Dental, located in Chicopee, MA, we can provide comprehensive dental exams and personalized treatment plans to help you achieve a healthy, beautiful smile.
What is the cost of a visit to a general dental office?
The cost of a visit to a general dental office can vary depending on the location and the specific services performed. It may also depend on whether or not you have dental insurance coverage. It's best to contact your dental office to inquire about their specific pricing for various services and procedures. However, regular dental check-ups and cleanings are typically recommended every six months, and many dental offices offer affordable preventive care packages to encourage regular visits.
What is the procedure for a teeth cleaning?
At Gorgeous Smiles Dental, we offer comprehensive teeth cleaning services to help maintain your oral health. Our experienced dental professionals will physically examine your mouth to check for any signs of gum disease or other oral health issues. Then, using special dental tools, we will remove any plaque or tartar buildup from your teeth and gum line, polish your teeth using a special abrasive paste and a high-powered brush, floss between your teeth to remove any remaining plaque or paste and apply a fluoride treatment to help strengthen your teeth and prevent cavities. We aim to provide you with a quick, painless, and effective teeth-cleaning procedure to help you maintain a healthy and beautiful smile.
What is the typical duration of a dental appointment?
The duration of a dental appointment can vary depending on the type of appointment and the services being provided. A routine dental check-up and cleaning typically last around an hour, while a more complex procedure, such as a filling or crown, may take longer. Additionally, if complications or unexpected issues arise during the appointment, it may take longer to complete. It's best to check with our dental office for an estimate of the duration of your specific appointment.
What are the preparations I need to make for a dental visit?
To prepare for a dental visit at Gorgeous Smiles Dental in Chicopee, MA, here are some things you can do:
Confirm your appointment: Make sure you know your appointment's date, time, and location. Confirm your appointment with the dental office to make sure everything is clear.

Provide your dental history: If you are a new patient, please provide your dental history to the dental office beforehand, if possible. This information can help the dentist better understand your dental needs.

Arrive on time: Arrive at least 10-15 minutes before your scheduled appointment to allow for any necessary paperwork or updates to your information.

Bring necessary documents: Bring your dental insurance card, identification, and any necessary forms or paperwork the dental office may require.

Brush and floss before your appointment: Brush and floss your teeth to ensure a cleaner mouth and a more effective dental examination.

Be prepared to discuss any concerns: Make a list of any dental concerns or questions you may have to consult with your dentist during your appointment.
By following these preparations, you can have a more efficient and productive dental visit at Gorgeous Smiles Dental.
Book a consultation today or make an appointment using our convenient online appointment scheduler.
Monday
- 10:00 AM to 7:00 PM
Tuesday
- 10:00 AM to 7:00 PM
Wednesday
- 10:00 AM to 7:00 PM
Thursday
- 10:00 AM to 7:00 PM
Friday
- 10:00 AM to 7:00 PM
Saturday
- 10:00 AM to 7:00 PM
Sunday
- 10:00 AM to 7:00 PM

CareCredit is a healthcare credit card designed for your health and wellness.
Everyone is accepted and membership can include coverage for your family.
Book your appointment today.