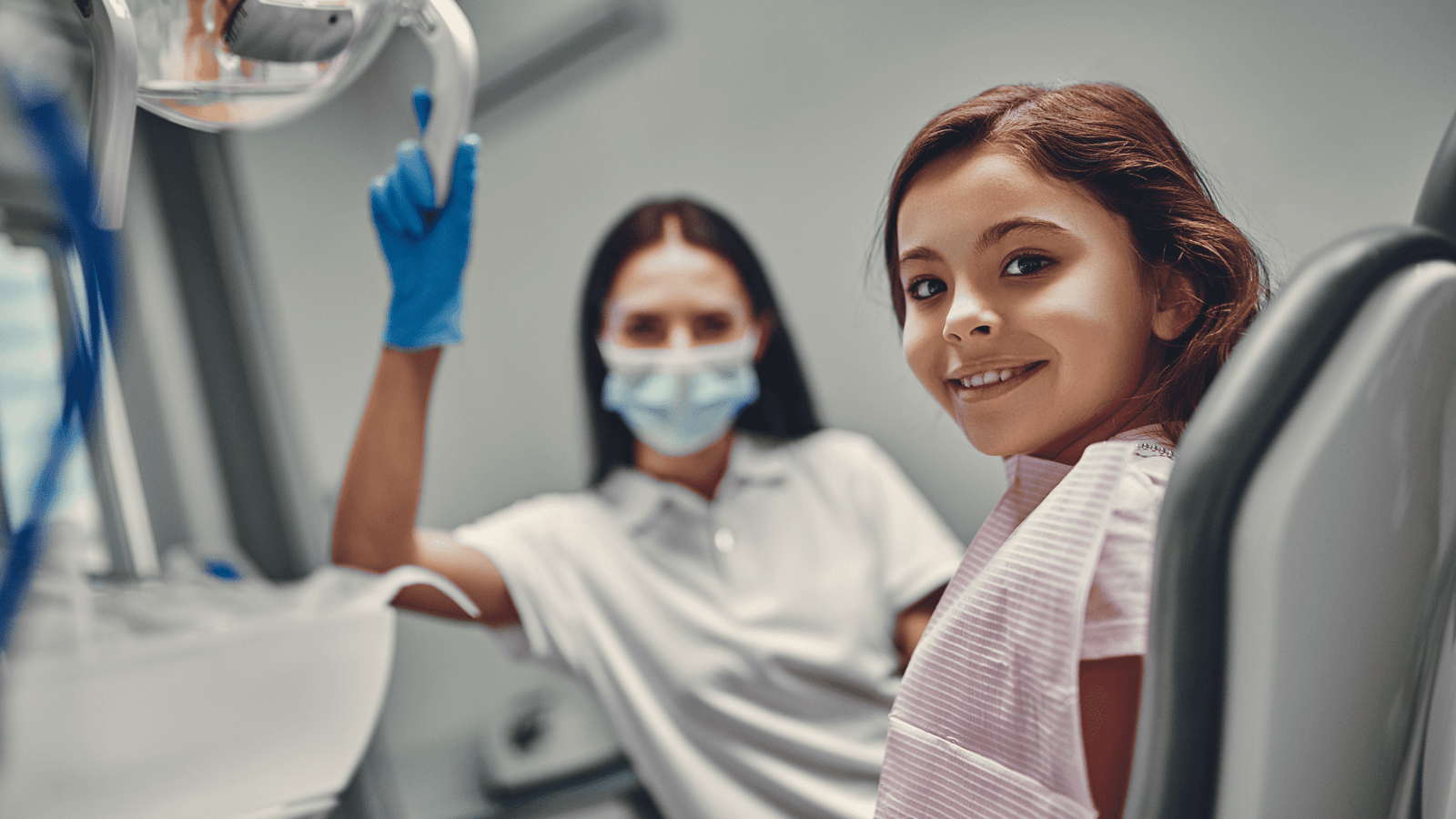 Children's dental care in Chicopee, MA
Are you looking for a qualified and gentle children's dentist near me? Our dental practice is here to help. Our experienced and friendly staff are dedicated to providing comprehensive dental services and making your child feel confident and comfortable during their visit. We welcome children of all ages, from infants to teenagers, and strive to create a positive dental experience. Whether in Chicopee or a nearby area, we are a suitable choice for your children's dental needs. Contact us to schedule an appointment, and trust us to care for your child's oral health with professionalism and compassion.
What does pediatric dentistry entail for children?
Pediatric dentistry is a specialized branch that focuses on providing oral health care to children from infancy to teenage years. It includes diagnosing, preventing, and treating dental conditions specific to children, along with educating parents and caregivers on oral hygiene practices. We offer services like check-ups, cleanings, fluoride treatments, dental sealants, and fillings while addressing issues related to tooth development, bite alignment, and oral habits. They emphasize education and create a positive environment for children to establish good oral health habits. Regular visits to a qualified pediatric dentist can help prevent dental issues and ensure the overall oral health of children.
When is the appropriate time to take your child for their first dental visit?
The American Academy of Pediatric Dentistry recommends that children have their first dental visit within six months after their first tooth erupts or by their first birthday, whichever comes first. This early visit allows the pediatric dentist to assess the child's oral health, monitor tooth development, and provide guidance on proper oral hygiene practices for parents and caregivers. Early dental visits also help familiarize children with the dental environment and establish a positive relationship with the dentist, setting the foundation for a lifetime of good oral health habits. Regular dental visits starting early can help prevent dental issues, detect potential problems early, and ensure proper oral care for your child's overall health and well-being.
Dental Services Offered by Our Office
During your child's visit to our children's dentist, we will thoroughly examine their teeth and gums to assess their oral health. This may include taking X-rays for a detailed view of the teeth and jawbone structure. If any issues or concerns are identified, our experienced dental team can provide a full range of services to address them. From preventive care, such as cleanings and fluoride treatments, to restorative treatments, such as fillings or crowns, we are equipped to ensure your child enjoys healthy teeth, gums, and a strong bite. Our goal is to provide comprehensive care to support your child's oral health and promote a lifetime of good dental habits.
Regular teeth cleanings are essential for maintaining healthy baby teeth, which can play a crucial role in promoting healthier permanent teeth when they erupt. Our dental team is experienced in providing gentle and effective teeth cleanings for children, using techniques to help your child feel comfortable and at ease during the process. We strive to make the experience positive and engaging for your child, encouraging them to remain still and keep their mouth open for the best results. Our goal is to provide fast and efficient solutions for your child's dental needs while promoting good oral hygiene habits that will benefit their oral health as they grow.
Topically applied fluoride treatments are a common recommendation from our experienced children's dentist to provide additional protection for your child's teeth. These treatments involve applying fluoride directly to the enamel of your child's teeth, helping to strengthen the enamel and make it more resistant to bacteria and tooth decay. Fluoride treatments are a simple and painless procedure that can be completed during your child's regular dental visit. They can significantly contribute to your child's oral health by preventing cavities and promoting strong, healthy teeth. Our dental team is skilled in providing fluoride treatments for children, ensuring their teeth are well-protected, and their smiles are bright and healthy.
Sealants are a highly effective preventive measure recommended by our children's dentist to protect the chewing surfaces of the back teeth from damage caused by bacteria, plaque, and tooth decay. These thin, protective coatings are usually applied to the grooves and crevices of the back teeth, creating a barrier that prevents food particles and bacteria from accumulating in those hard-to-reach areas. Sealants are a safe and painless procedure that can be applied during a regular dental visit and provide long-lasting protection for your child's tooth enamel. By blocking out harmful bacteria and plaque, sealants can help prevent cavities and promote optimal oral health for your child.
It's important to address even the smallest cavities in your child's teeth to prevent decay from spreading and potentially causing bad breath or discomfort. Your pediatric dentist can help you determine the most appropriate approach for your child's dental needs. Early intervention and filling of cavities can help prevent further damage to the affected tooth and adjacent teeth and can also help maintain your child's overall oral health. During your child's dental visit, the dentist will thoroughly examine the teeth for any signs of cavities or decay and may recommend fillings or other appropriate treatments based on the severity and location of the cavities. Prompt treatment of cavities can prevent complications and promote healthy teeth and gums for your child's long-term oral health.
When a child's teeth are broken or severely decayed, it may be necessary to apply pediatric crowns to provide additional support for baby teeth. Pediatric crowns are custom-made caps placed over the affected teeth to restore their strength, structure, and function. They are typically made from durable materials such as stainless steel or composite resin and are designed to fit comfortably in a child's mouth.
Mouthguards are necessary elements of protective gear for many sporting activities. We can create a custom mouthguard for your child to ensure greater dental safety during athletic events and practices.
When Do Baby Teeth Erupt?
You can expect to see the first few baby teeth between the fourth and sixth months of your baby's life. This should usually prompt a visit to our office to make sure everything is progressing normally.
When Do Baby Teeth Start to Fall Out?
Your child will usually lose his or her first baby tooth between the ages of five to seven. Scheduling a checkup with our office after the first tooth falls out can provide you with added peace of mind and can ensure strong dental health for your children.
What Are the Causes of Toothaches in Children?
Children may experience toothaches for the same reasons that adults do. Infections, tooth decay and damage to teeth are among the most common causes of toothaches in children.
Call our office today to schedule an appointment. We look forward to the chance to work with you and your children.
Book a consultation today or make an appointment using our convenient online appointment scheduler.
Monday
- 10:00 AM to 7:00 PM
Tuesday
- 10:00 AM to 7:00 PM
Wednesday
- 10:00 AM to 7:00 PM
Thursday
- 10:00 AM to 7:00 PM
Friday
- 10:00 AM to 7:00 PM
Saturday
- 10:00 AM to 7:00 PM
Sunday
- 10:00 AM to 7:00 PM

CareCredit is a healthcare credit card designed for your health and wellness.
Everyone is accepted and membership can include coverage for your family.
Book your appointment today.