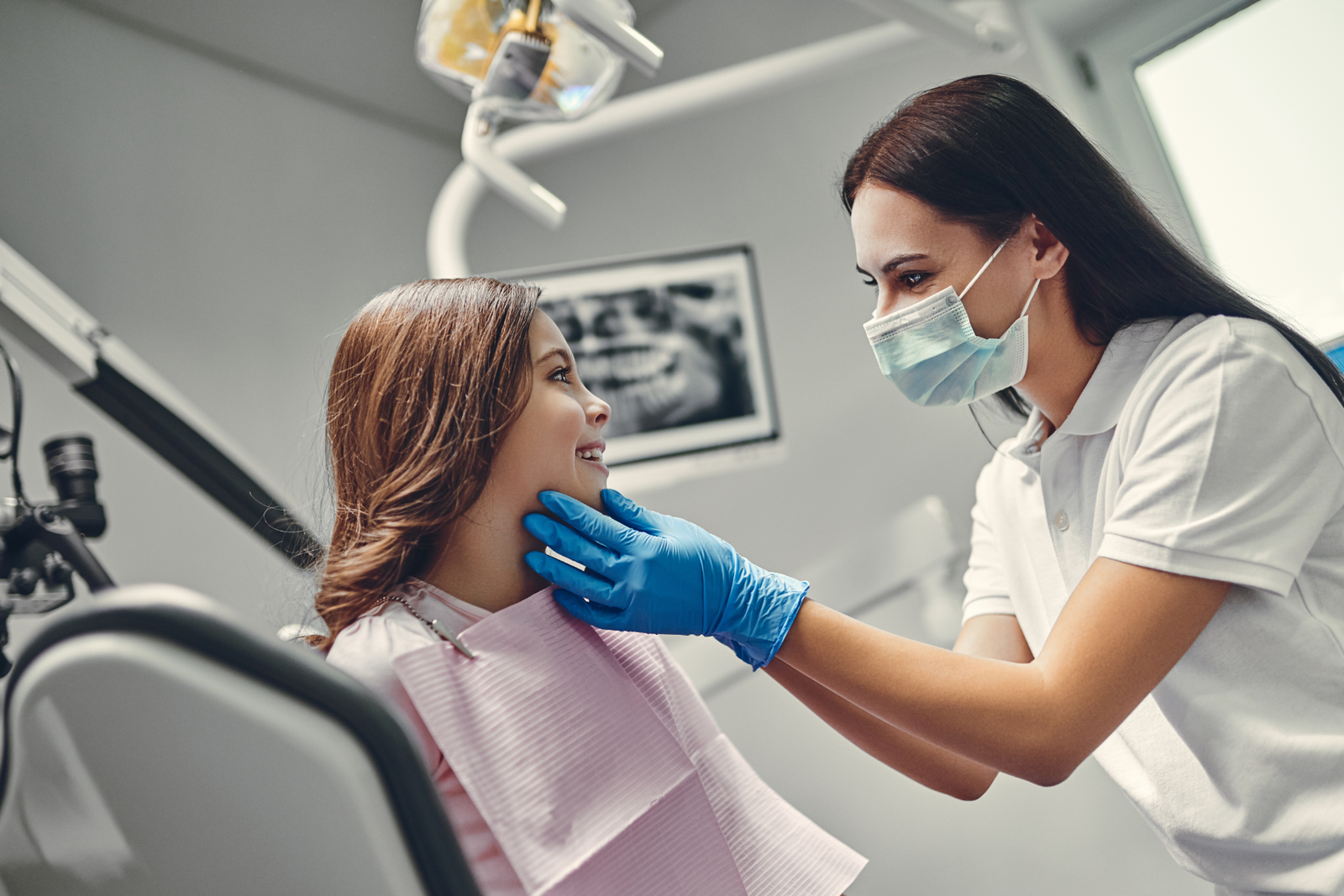 Children's dental care in Manchester, CT
Are you in search of a children's dentist near you? Look no further! We are proud to be a trusted choice for families seeking pediatric dental care. Our friendly and engaging environment will make your child's visit to our office an enjoyable experience. As a children's dentist, we are committed to providing high-quality dental services that are affordable for your budget.
When you choose our office for your child's dental care, you can expect the following:
Quality dental services: Our experienced team specializes in pediatric dentistry and is trained to provide gentle and effective dental care for children of all ages. From routine cleanings and exams to specialized treatments, we prioritize your child's oral health and well-being.

Child-friendly environment: We understand the importance of creating a comfortable and positive dental experience for children. Our office is designed with children in mind, featuring colourful and engaging decor, kid-sized dental chairs, and a friendly and welcoming staff to make your child feel at ease.

Affordable services: We strive to make pediatric dental care accessible and affordable for families. We accept various insurance plans and offer flexible payment options for different budgets.

Education and preventive care: We believe in the power of preventive care and education. Our team takes the time to educate both children and parents on proper oral hygiene techniques, diet and nutrition tips, and other preventive measures to maintain optimal oral health.

Compassionate care: We understand that children may feel anxious about visiting the dentist. Our team is skilled in providing compassionate and patient-centred care to help your child feel comfortable and at ease during their dental visit.
We are honoured to be your trusted choice for children's dentistry. Contact us today to schedule an appointment and experience the quality care and friendly environment that we provide for our young patients.
Comprehensive Pediatric Dentistry: Caring for Your Child's Dental Health
Our comprehensive pediatric dentistry services provide gentle and thorough dental care for children in a friendly and engaging environment. We offer preventive dentistry, restorative treatments, and education on oral hygiene practices. Our office is designed to be kid-friendly, and we strive to make dental visits enjoyable for children. We also offer competitive pricing and work with insurance plans to make dental care affordable for families. Your child's dental health is our top priority, and we look forward to being your trusted partner in their oral health journey.
When Should Your Child First Visit the Dentist?
At Gorgeous Smiles Dental in Manchester, we emphasize the importance of early dental care for children. As per the American Academy of Pediatric Dentistry, it is recommended that children have their first dental visit within six months after their first tooth erupts, or by the time they reach their first birthday. Our experienced team provides gentle and comprehensive dental services tailored to children of all ages, focusing on preventive care and oral hygiene education. We strive to create a positive and comfortable experience for your child, building a foundation for good oral health habits.
Our Comprehensive Dental Services: What We Offer at Our Practice
At our practice, we offer a wide range of comprehensive dental services to meet the oral health needs of our patients. Our experienced team of dental professionals is committed to providing high-quality care in a comfortable and friendly environment. Our services include general dentistry, cosmetic dentistry, pediatric dentistry, orthodontics, dental implants, oral surgery, and emergency dental care. From routine cleanings and checkups to advanced treatments, we are dedicated to helping our patients achieve and maintain healthy smiles. With state-of-the-art technology and personalized care, you can trust us to provide exceptional dental services for you and your family. Contact our Manchester dental office today to schedule an appointment and experience the difference in our comprehensive dental care.
The Importance of Dental Hygiene for Children: Teeth Cleaning for Kids
Regular teeth cleanings for kids are essential to maintain healthy teeth and gums as they grow. Our practice provides gentle and compassionate dental care for children in a kid-friendly environment. Our experienced team offers thorough teeth cleanings, oral hygiene instructions, and parental guidance on proper oral care practices at home. Investing in your child's dental hygiene can lead to a lifetime of healthy smiles. Please schedule an appointment with our practice in Manchester to prioritize your child's oral health.
What Are Dental Sealants?
Dental sealants are a protective coating applied to the teeth to prevent tooth decay. They are typically used on the chewing surfaces of the back teeth, which are more prone to cavities. Dental sealants create a barrier that seals out food particles and bacteria, helping to prevent the formation of cavities. Applying dental sealants is a quick and painless process, and they can last for several years. They are a safe and effective way to protect your teeth from decay, especially for children and teenagers who may have difficulty maintaining optimal oral hygiene. Consult with our dental professionals in Manchester to learn more about dental sealants and how they can benefit you or your child's oral health.
When Can You Expect Your Child's First Teeth to Appear?
Baby teeth, also known as primary teeth, typically start appearing around six months, with the lower central incisors being the first to erupt. By age 3, most children will have a complete set of 20 baby teeth. Establishing good oral hygiene habits early on is essential, including regular tooth brushing and dental check-ups. Healthy baby teeth are crucial for speech, chewing, and proper alignment of permanent teeth.
When Do Children Lose Their Baby Teeth?
Losing baby teeth, also known as primary teeth, and getting permanent teeth is a natural part of a child's development. On average, children start losing their baby teeth around 6 or 7, although the timeline can vary. The lower front teeth are often the first to fall out, followed by the upper front teeth and the molars. By 12 or 13, most children have lost all their baby teeth and have a complete set of permanent teeth. Encouraging good oral hygiene habits during this transition period is essential to maintain healthy gums and to ensure proper alignment of the incoming permanent teeth. Regular dental check-ups can also help monitor the progress of your child's tooth development progress and address any concerns or questions you may have.
Common Reasons for Dental Pain in Kids
Various factors, including dental issues, oral hygiene habits, diet, and lifestyle choices, can cause toothaches in children. Common causes of toothaches in children may include dental decay, gum disease, tooth sensitivity, dental trauma, teething, bruxism (grinding of teeth), and poor oral hygiene. Other factors, such as consuming sugary foods and drinks, not brushing and flossing regularly, and neglecting dental check-ups, can also contribute to toothaches in children. Identifying the underlying cause of the toothache and seeking appropriate dental care promptly to alleviate the pain and prevent further dental problems is essential. Regular dental check-ups and good oral hygiene habits can help prevent toothaches and promote optimal dental health in children. If your child experiences persistent toothaches or oral discomfort, it's essential to consult a qualified dentist for a proper diagnosis and treatment plan.
Book a consultation today or make an appointment using our convenient online appointment scheduler.
Monday
- 10:00 AM to 7:00 PM
Tuesday
- 10:00 AM to 7:00 PM
Wednesday
- 10:00 AM to 7:00 PM
Thursday
- 10:00 AM to 7:00 PM
Friday
- 10:00 AM to 7:00 PM
Saturday
- 10:00 AM to 7:00 PM
Sunday
- 10:00 AM to 7:00 PM

CareCredit is a healthcare credit card designed for your health and wellness.
Everyone is accepted and membership can include coverage for your family.
Book your appointment today.