Emergency dentist in Manchester, CT
During a dental emergency, finding prompt and reliable care is essential. Our office can solve the question, "Where can I find an emergency dental office near me?" We offer same-day appointments, have a skilled team of dental professionals, and provide comprehensive follow-up treatments. Our goal is to alleviate pain, address the root cause of the issue, and prevent future complications. Trust us for compassionate and efficient dental care during your dental emergency.
Emergency Dental Services
Emergency dental care is essential for addressing sudden or urgent dental issues that require immediate attention. These can include broken crowns, severe toothaches, and conditions resulting in permanent damage if not treated promptly. At our dental office in Manchester, our team of emergency dentists is equipped to handle a wide range of urgent dental care needs during regular business hours. Some of the services we provide include:
Broken or chipped tooth repair: Accidents can happen, and a broken or chipped tooth can cause discomfort and pain. Our emergency dentists are skilled in repairing broken or chipped teeth using various techniques, such as dental bonding or dental veneers, to restore the tooth's shape and function.

Emergency tooth removal: In some cases, a tooth may need to be extracted urgently due to severe decay, infection, or trauma. Our emergency dentists can perform tooth extractions using gentle and efficient techniques to alleviate pain and prevent further complications.

Toothache treatment: Toothaches can be excruciating and can disrupt your daily routine. Our emergency dentists will conduct a thorough examination to determine the cause of the toothache and provide appropriate treatment, such as root canal therapy or tooth filling, to relieve the pain and address the underlying issue.

Crown and filling restorations: A broken or lost crown or filling can leave your tooth vulnerable to further damage and infection. Our emergency dentists can restore crowns and fillings promptly to protect the tooth and restore its function.

Dental infection treatment: Dental infections, such as abscesses, can be serious and require immediate attention to prevent the infection from spreading. Our emergency dentists are trained to diagnose and treat dental infections using antibiotics, root canal therapy, or other appropriate treatments.

Treatment for issues caused by orthodontic devices: If you wear braces or other orthodontic appliances and experience an issue such as a broken wire or a loose bracket, our emergency dentists can provide prompt repairs to prevent discomfort or further damage.
Our dental office in Manchester is equipped to handle various urgent dental care needs during regular business hours. Our experienced team of emergency dentists is skilled in providing prompt and efficient treatments for broken teeth, toothaches, dental infections, and other dental emergencies to ensure you receive the care you need when needed.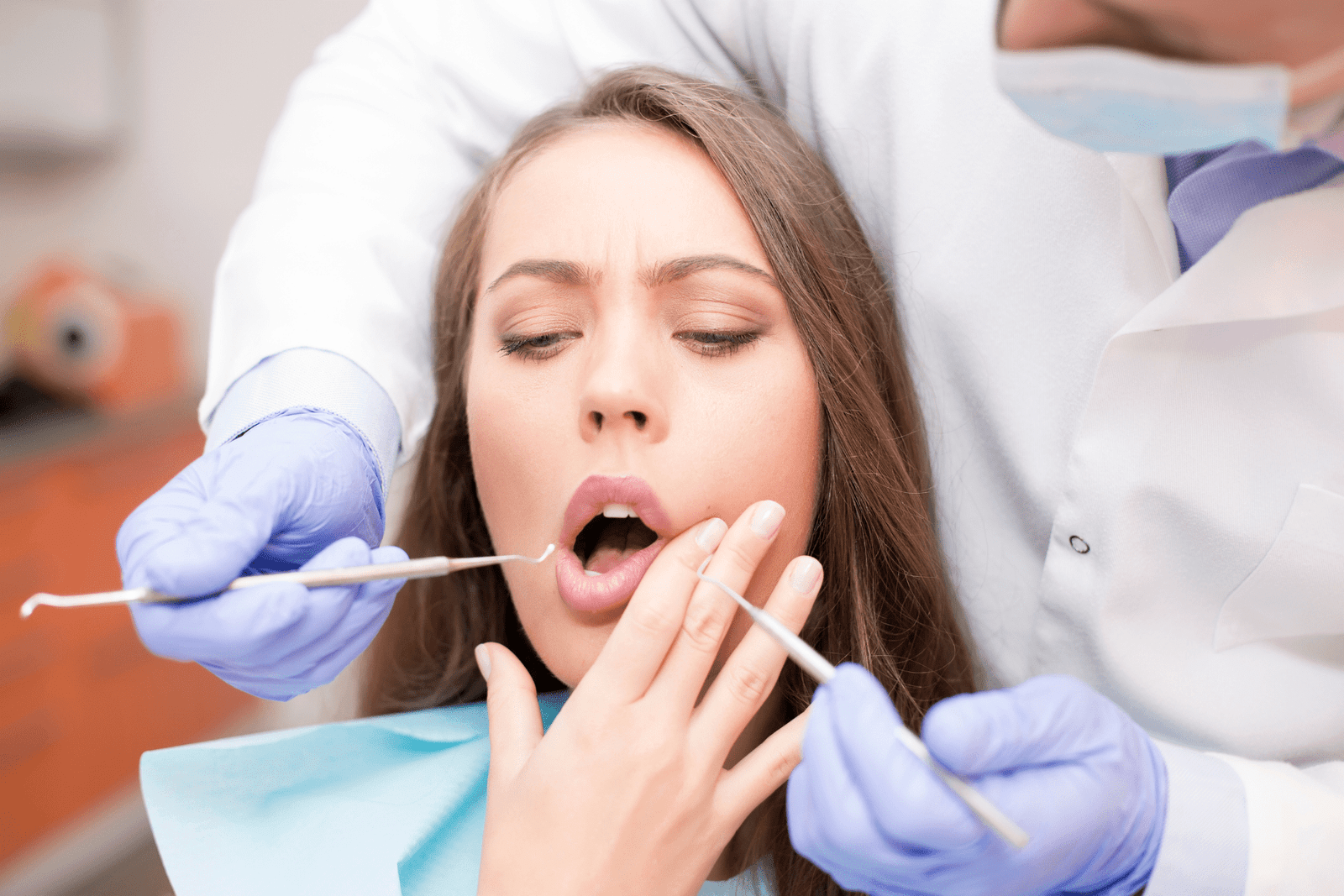 How Do I Find Emergency Dentists Near Me?
If you're dealing with a dental emergency such as severe tooth pain, a broken tooth, or a chipped crown, there's no need to suffer needlessly. Our experienced dentists are here to help and offer emergency dental care during our regular office hours. Call us to schedule an appointment, and we'll do our best to see you promptly. You can trust us to provide comprehensive care to relieve pain and diagnose and treat your dental condition. Don't delay – contact us now for the quality emergency dental care you can rely on.
When Should You Call Our Emergency Dental Office?
It can be challenging to know when you need emergency dental care. Here are some common situations where you should seek immediate care from emergency dentists:
Abscessed Tooth: Severe tooth pain, fever, swollen neck glands, and gum swelling can indicate an abscessed tooth, which requires prompt treatment.
Broken Crowns and Lost Restorations: Broken crowns or lost restorations can leave your tooth vulnerable to further damage and should be addressed promptly.
Cavities (Dental Decay): Large areas of dental Decay can cause intense toothaches and infections and require immediate attention.
Fractured or Broken Teeth: Prompt care for fractured or broken teeth can prevent infection and other complications.
Knocked-Out Tooth: If a tooth is knocked out, quick action can save it. Rinse the tooth with warm water, reinsert it carefully, and seek emergency dental services.
Lost or Loose Fillings: Lost or loose fillings should be treated promptly to prevent further damage and Decay.
Orthodontic Pain or Injuries: Pain or injuries related to orthodontic devices should be addressed by emergency dentists.
Severe Toothache or Pressure: If you have a severe toothache accompanied by fever, earache, or pressure, do not delay treatment.
Sinus Pressure: Sinus pressure can sometimes be caused by dental issues like impacted wisdom teeth and should be evaluated by emergency dentists.
Tooth Enamel Worn by Teeth Grinding: Teeth grinding can cause enamel wear, leading to tooth problems. Emergency dentists can help reinforce worn enamel.
Tooth Sensitivity: Abrupt or intense tooth sensitivity may require emergency dental care to determine the cause and provide appropriate treatment.
If you experience any of these conditions, it's important to contact emergency dentists for evaluation and treatment during regular office hours or seek immediate care if the situation is severe.
For More Serious Dental Issues
If you're in a situation where you believe your dental issue requires immediate attention, it's important to seek treatment right away. Some dental problems requiring 24-hour emergency dental care include injuries to your face, teeth, head or jaw, significant bleeding, or severe facial or gum swelling. In such cases, call your primary care physician, oral surgeon, 911, or go to the nearest hospital emergency room.
If you're looking for 24-hour emergency dental care near you, it's best to check with your local hospitals or dental clinics that offer after-hours or emergency services. Emergency dentists are available during normal business hours to provide follow-up care for dental issues and treat urgent dental needs. It's important not to delay care if you're experiencing severe pain or other serious symptoms.
If you're unsure about the severity of your dental problem, it's always best to consult a dental professional who can assess your situation and provide appropriate guidance. They can help determine if you need immediate treatment or if your issue can wait until regular business hours. Your oral health and well-being are important, so don't hesitate to seek emergency dental care if your situation requires urgent attention.
What Are the Costs of Emergency Dental Treatment?
The cost of emergency dental treatment can vary depending on the specific dental needs of each individual. However, many emergency dental offices offer financing options to make unexpected treatment costs more affordable. These financing options may include instalment plans or other payment arrangements to help patients manage emergency dental care costs.
In addition to financing options, most emergency dental offices accept major credit cards and are usually willing to work with patient's insurance plans. It's important to contact the emergency dental office directly to inquire about their accepted insurance plans and payment options. They can provide more information about making your emergency and preventive dental care more affordable based on your individual needs and financial situation.
If you need emergency dental care but are concerned about the cost, don't hesitate to ask the dental office about available options. Many emergency dental offices understand the financial concerns of their patients and are willing to work with them to find a solution that fits within their budget. Remember that prioritizing your oral health is essential; emergency dental care can prevent further complications and alleviate pain in the long run.
Book a consultation today or make an appointment using our convenient online appointment scheduler.
Monday
- 10:00 AM to 7:00 PM
Tuesday
- 10:00 AM to 7:00 PM
Wednesday
- 10:00 AM to 7:00 PM
Thursday
- 10:00 AM to 7:00 PM
Friday
- 10:00 AM to 7:00 PM
Saturday
- 10:00 AM to 7:00 PM
Sunday
- 10:00 AM to 7:00 PM

CareCredit is a healthcare credit card designed for your health and wellness.
Everyone is accepted and membership can include coverage for your family.
Book your appointment today.